Notable for its prowess in design and technology, as evidenced by Nokia, Linux, Artek, Marimekko, Angry Birds, and Moomins, Finland has refocused its creative energies on sustainable design from an ethical and ecological perspective. Design and democracy go hand in hand in Finland, reflecting the spirit of equality that had marked Finnish culture since 1906, when Finnish women became the first to win the right to vote and stand for parliament.
Opened in May 2018 in the Kamppi district of Helsinki, Hotel St. George exemplifies the Finnish trend toward redefining luxury travel. The hotel's emphasis on environmental awareness coexists with a refined design aesthetic marked by an art collection of more than 400 pieces on display throughout the hotel. Guests are greeted by activist artist Ai Weiwei's massive "Tianwu," a mythical white dragon suspended in the lobby.
With windows and balconies that overlook Old Church Park, Hotel St. George is housed in a neo-Renaissance building designed in 1890 by Onni Tarjanne, the famous architect of the Finnish National Theatre. For years, the seven-story building housed the Finnish printing and publishing industry, which included many intellectuals known as "fennomans," which gave rise to Finnish independence alongside preserving the Finnish language and culture.
Hotel St. George is housed in a neo-Renaissance building designed in 1890 by the same architect behind the Finnish National Theatre. Photo credit: Courtesy of Kamp Collection Hotels
Finnish art and design are displayed in the hotel's 153 rooms, suites, and public areas. Lush with foliage and flora, the hotel's winter garden functions as a veranda where guests gather to chat and enjoy a cocktail. Suspended from the glass ceiling is Pekka Jylha's 20-foot avian sculpture "Learning to Fly," an artistic embodiment of the concept of freedom that deserves its eponymous cocktail served in a bird-shaped glass.
As a singular member of Design Hotels in Finland, the hotel's Wintergarden features pieces by Alvar Aalto and other Finnish designers, as well as vintage rugs, leather sofas, oak floors, and wallpapers by Klaus Haapaniemi that sparkle like a Gobelins tapestry. Three private lounges known as Nooks are offered for small social gatherings or the hotel's afternoon tea.
The rooms and suites are furnished with classic Scandinavian designer furniture and abstract lithographs by Finnish artists. Serenity Studios are outfitted with desks overlooking the park. They include in-room exercise bands, a king-size Duxiana bed, a marble bathroom with a rain shower head, and free use of the spa and the hotel gym known as St. George Care.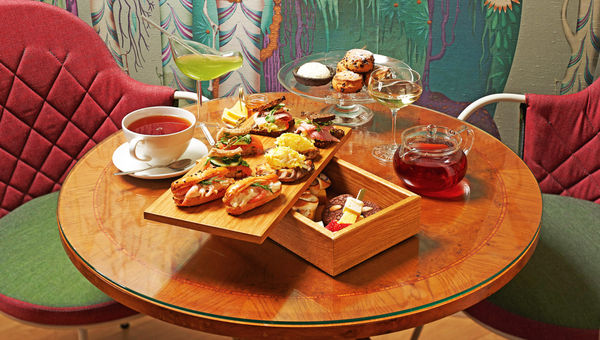 The hotel's conservatory functions as a winter garden where guests meet with locals for cocktails, conversation, and afternoon tea. Photo credit: Courtesy of Kamp Collection Hotels
Focus on sustainability
As a member of Green Key, the hotel is carbon negative. Tap water in Finland is some of the cleanest in the world, and each room at St. George has a SodaStream machine allowing guests to carbonate tap water for personal use.
One of the most often cited facts about Finnish culture refers to the prevalence of saunas, the number of which may outnumber the population. In keeping with the hotel's emphasis on holistic wellness, St. George Care features two saunas, an indoor pool, and a cold plunge pool. Seasonal treatments include jet lag options with sleep monitors available on request, as do Pelago bikes.
The hotel's St. George Bakery offers homemade donuts and four types of traditional Finnish bread baked daily. The bakery uses the sustainable food app ResQ to sell excess baked goods to locals.
The bakery's reading room is a sanctuary where phones and laptops are discouraged; newspapers, magazines, and shelves of art and design books are complemented by tables and cozy nooks perfect for reading or daydreaming.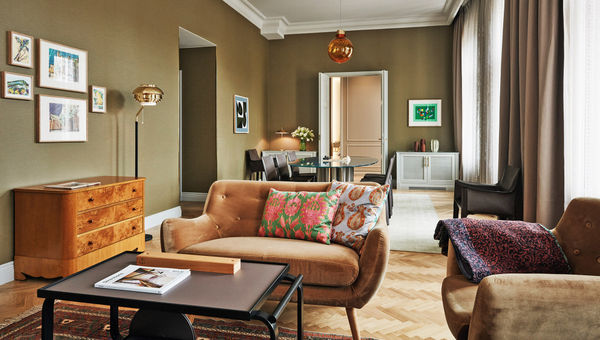 Finnish art and design are present in the hotel's 153 rooms and suites. Photo credit: Courtesy of Kamp Collection Hotels
To witness design and democracy in action, spend the afternoon at the Helsinki Central Library, more commonly known as Oodi. More than just a house of literature, Oodi presents itself as a complete cultural center with cinema, music rooms, games rooms, learning kitchens, sewing machines, 3D printers, a restaurant, café, and spaces for young people, all serving as an extension of home living in Helsinki. . Oodi's front plaza flows into the entrance like an indoor/outdoor lounge, allowing the people of Helsinki to walk around every day of the week.
Sipping a glass of wine in a library may seem taboo. Yet, Oodi is reminiscent of the great literary salons of Paris and London, albeit conducted in a much more democratic fashion.
Art exhibitions in Oodi are curated from the collection of the Helsinki Art Museum, locally known as HAM. Built to celebrate the centenary of Finland's independence in 2017, Oodi was voted the best public library in the world for its spectacular architecture and the building emphasis on equality, openness, and freedom of association. 'expression.
According to the World Happiness Report, a UN publication, Finland has been ranked as the happiest country in the world for the past five years. Maybe it's the combination of design, democracy, and homemade donuts.
Rates at Hotel St. George start at $300 per night for Serenity Studio, with a buffet breakfast.